Just $25 per reel, tiktok or shorts
Send us your video, and we will take care of the rest.
30-seconds video
4 videos
30-seconds video
12 videos
Content research for viral topics
30-seconds video
4 videos
Total 25k views
(Guaranteed)
30-seconds video
10 videos
Total 60k views
(Guaranteed)
30-seconds video
25 videos
Total 125k views
(Guaranteed)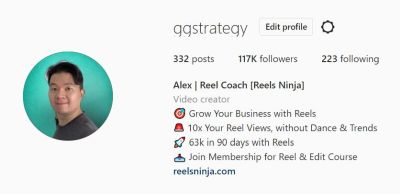 A team of experienced video editors led by Alex Liu (IG: ggstrategy), on their mission to turn your short videos into exciting and engaging content. Alex has been doing digital marketing for over 17 years, serving entrepreneurs and corporate. He has grown his account to 100k within 1 year with REELS.
Our team syncs your video with trending audio if it doesn't involve talking. If talking is involved, a trending audio will be chose as a background music.
We will add english subtitles for your video with your brand colour.
Our team will do basic colour grading to make your reel stand out and look good.
If your video has pauses and speech crutches, don't worry about it. We will remove them while keep it smooth.
Our team will add appropriate emojis and stickers to keep the video fun and interesting to watch.
We will do max 3 revisions to ensure the videos are edited to your standard.
We provide the following with extra charges:
Video shooting (require client to deliver product to us)
Reel cover design
Hashtag research
Viral topic research
1:1 coaching
Engagement with other accounts before & after (this will boost your engagement rate, views and followers)
Previous Reels We Created
For Our Clients Around The World